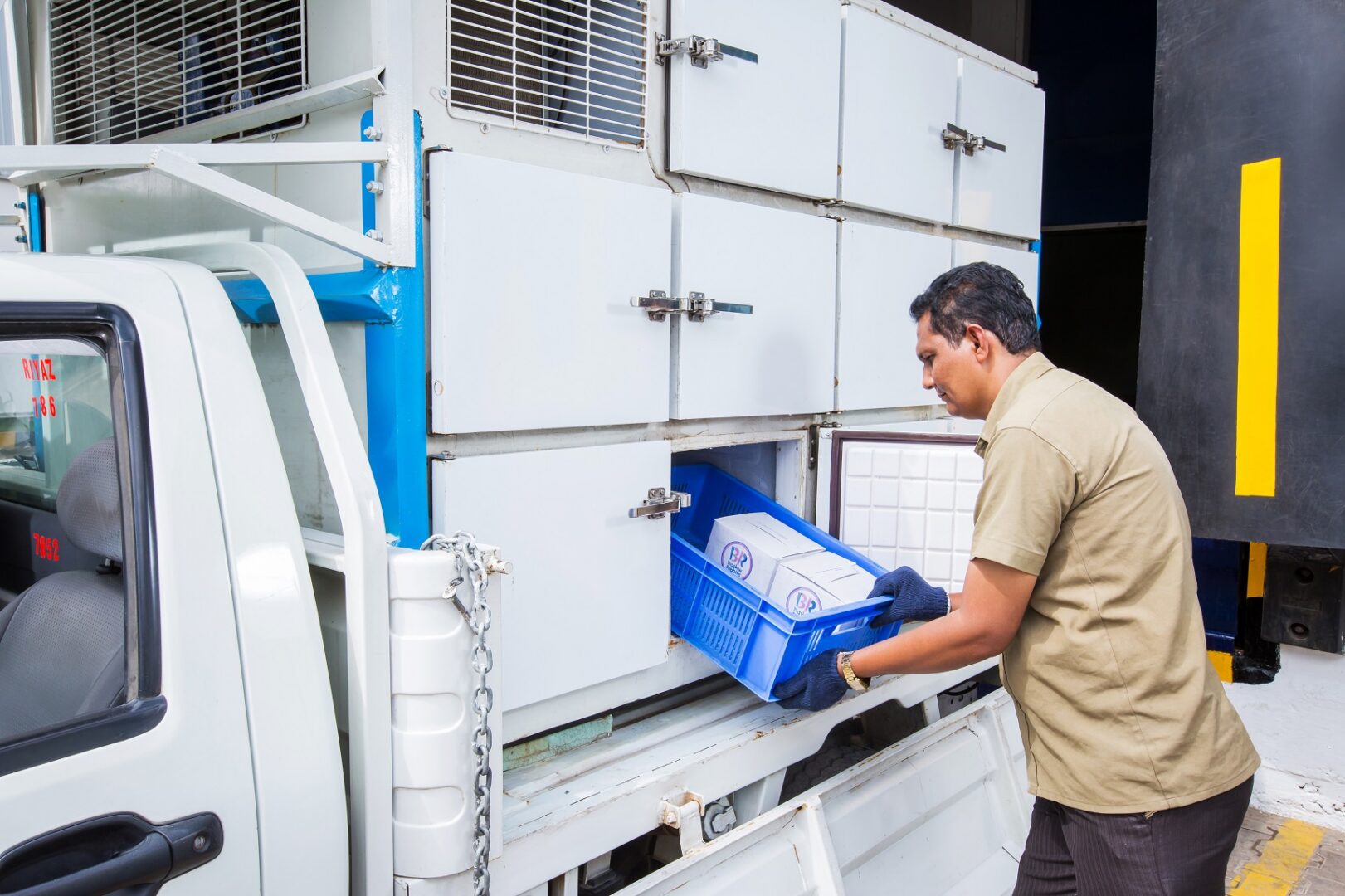 9 September, 2021
IFC and Snowman Open Call for Cold Chain Innovators Worldwide to Bring Climate-Smart Solutions to India
New Delhi, September 9, 2021 – IFC and Snowman Logistics, one of India's largest cold-chain logistics companies, have launched a global open call for innovators to bring sustainable temperature-controlled logistics (TCL) solutions to the growing Indian market, as part of IFC's award-winning TechEmerge Program.
The TechEmerge Sustainable Cooling Innovation Program is funded by the UK Government's International Climate Finance. With a total pool of up to $500,000 in grant funding, it offers competitively selected innovators the opportunity to partner with Snowman to pilot new technologies, services, and business models that improve the efficiency, affordability, and help curb greenhouse gas emissions in the Indian TCL sector.
Jan Thompson, British Deputy High Commissioner to India said, "As we approach COP26, I am delighted to see innovative solutions receiving support from the UK-funded Sustainable Cooling Innovation Program. Developing sustainable cold chains – whether for agricultural products or life-saving vaccines – is vital for low carbon development in line with the Paris Agreement. As strong supporters of the Kigali Amendment, I'm pleased that the UK is working in partnership with IFC and India's private sector to adopt solutions that reduce emissions and energy consumption, provide business opportunities, and save money for customers".
"Snowman has a longstanding commitment to deliver the most efficient and economical cold-chain solutions in India," said Snowman's Director, Ishaan Gupta. "Teaming up with innovators worldwide is a win-win proposition that will lower our energy consumption and greenhouse gas emissions, create value for our customers, and ensure the sustainability of our business moving forward as we continue to expand our network. We are grateful to IFC for including us in their TechEmerge Program."
"Gaps and inefficiencies in cold chains pose a major challenge in India and across the globe— contributing to food waste and vaccine spoilage, and driving up costs for consumers, producers, and businesses," said Vikram Kumar, New Business Manager, Infrastructure and Natural Resources, Asia Pacific at IFC. "Innovations in cold chain logistics offer one of the most cost-effective ways to address this critical issue, while strengthening India's fast-growing cold-chain sector, and reducing the high energy usage and environmental impacts of conventional cooling technologies."
IFC and independent cooling advisors will evaluate innovations for refrigerated warehousing, space conditioning for packaging and sorting, inter and intra-city mobile cooling solutions for pharmaceuticals and other temperature-sensitive goods, IoT-enabled asset management, and more.
Applications can be submitted at TechEmerge Sustainable Cooling Innovation Temperature-Controlled Logistics India through September 24, 2021. 
Shortlisted candidates will be invited to meet with Snowman to discuss potential pilots to be conducted in India. The ultimate goal is to scale innovative solutions for the cold chain logistics sector in South Asia and beyond.
In addition to grant funding, the TechEmerge Program provides advisory support throughout field testing to help innovators mitigate financial and operational risks, reduce adoption risks for local firms like Snowman, and facilitate market-entry and tech transfer.
The TechEmerge program has a strong track record of matching innovators across the world with leading companies and organizations in emerging markets to pilot game-changing solutions, build commercial relationships, de-risk investment, and accelerate the adoption of innovation where it is needed most.
Its programs have helped to raise hundreds of millions of dollars in financing and investment, supported private sector growth in key sectors, and scaled disruptive solutions that are expected to benefit millions of people each year while addressing some of the world's most pressing development challenges.​
About IFC
IFC—a member of the World Bank Group—is the largest global development institution focused on the private sector in emerging markets. We work in more than 100 countries, using our capital, expertise, and influence to create markets and opportunities in developing countries. In fiscal year 2021, IFC committed a record $31.5 billion to private companies and financial institutions in developing countries, leveraging the power of the private sector to end extreme poverty and boost shared prosperity as economies grapple with the impacts of the COVID-19 pandemic. For more information, visit www.ifc.org.
About UK Government
As COP26 Presidency, the UK is committed to working with all countries and joining forces with civil society, companies and people on the frontline of climate action to inspire ambition ahead of COP26. The UK Prime Minister has committed to double the UK International Climate Finance to at least £11.6 billion between 2021/22 and 2025/26. The UK is playing an important role in accelerating clean energy innovation through its leadership of Mission Innovation and by acting as Chair of its Steering Committee, it pledged to double its spending on clean energy innovation to £400m by 2020/2021.
About Snowman Logistics
Snowman is India's leading integrated temperature-controlled logistics service provider, specializing in providing warehousing, distribution, and other value-add services across the country. Our pan India network of state-of-the-art temperature-controlled warehousing facilities, transportation services, and integrated technology solutions, allow us to ensure product quality and temperature integrity of customers' products from point of origin to the consumption point. For more information, visit www.snowman.in
​Stay Connected
See press release published on IFC website.