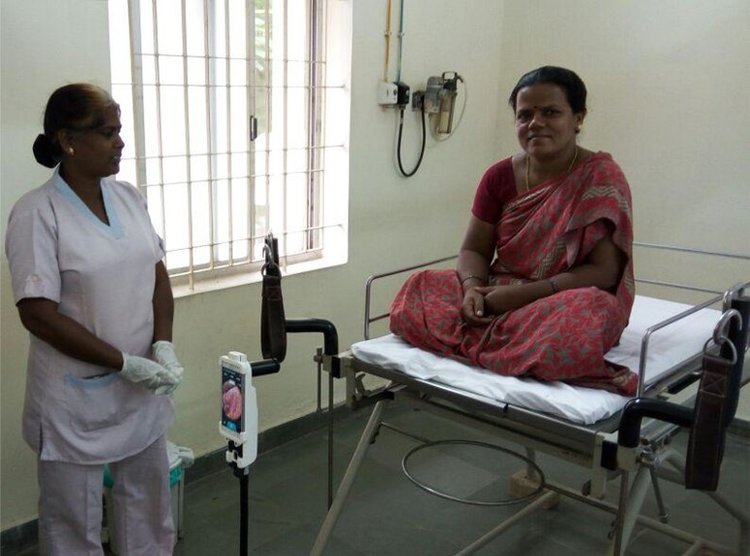 1 March, 2018
Making Women's Health a Priority with Breakthrough Technology
Over 432 million women in India are at risk of developing cervical cancer, yet only 3 percent of women undergo screening. Socioeconomic conditions and lack of equipment and qualified colposcopists contribute to these low screening numbers. Even when women are screened for the human papilloma virus (the virus known to cause cervical cancer) or undergo a pap smear, up to 80 percent of those with positive results do not return for treatment. This lack of follow-up treatment can have deadly results for a form of cancer that is highly treatable if caught early.
To address these gaps and ensure patients in underserved areas have access to advanced, cost-effective diagnostic tools, MobileODT, an Israeli company, developed a ground-breaking product for detecting cervical cancer – the EVA (Enhanced Visual Assessment) System – which combines advanced optical technology with smartphone capabilities to make cervical cancer detection more accessible.
Traditional screening technology is bulky and expensive, while the EVA system is smaller, more portable, and more cost effective by comparison, making it easier to deploy at scale. Using EVA, a nurse or health worker can go into communities and screen for cervical cancer. They can track patients through built-in software that syncs to secure online storage, enabling quick diagnoses and ongoing engagement, increasing the chances of early detection and treatment.
Through the TechEmerge program, MobileODT and Apollo Hospitals partnered to test the EVA system across seven medical centers in four Indian states. The pilot reached both urban and rural areas spanning a range of income groups. The project also helped to demonstrate the EVA system's ability to meet quality screening standards, in addition to assessing the skill level and consistency in approach among practitioners at the various centers.
In the seven sites, 579 women were screened with both traditional pap smears, and using the EVA system as an additional tool. Twenty of the 579 patients enrolled in the study had cancerous or pre-cancerous results using the pap smear test. In comparison, 51 women were assessed to have pre-cancer or cancer with the EVA system, which means MobileODT's technology diagnosed 31 more women, who were able to receive life-saving treatment as a result.
The surveyed healthcare providers participating in the project rated EVA highly for its ease of use and for improving patient engagement. The providers noted that the EVA system helped them explain images, concepts, and risks to women.
Since joining the program, MobileODT has signed a local partner to distribute the EVA system in India. MobileODT and Apollo continue to work together and aim to conduct the first large-scale pilot of augmented intelligence in cervical cancer screening. This project will give healthcare professionals cutting-edge, low-cost mobile technology to reach millions of women across India who previously had limited access to life-saving cervical exams.
Read more about the TechEmerge pilot: Mobile ODT & Apollo Hospitals
Pilot Period: January – November 2017